The Legendary Whisky a Go Go in the 1970s
How punk and new wave resurrected the Sunset Strip nightclub in the 1970s. 
In early 1975, Hollywood's Whisky a Go Go was on the rocks. The famed Sunset Strip nightclub, which during its late 60s and early 70s peak had played host to acts ranging from The Byrds and The Doors to Led Zeppelin and the Beach Boys, faced serious financial problems. Record labels, which had used the Whisky as a key platform for promoting their rising rock acts, now turned their attention to securing warm-up slots for their new artists on arena and stadium tours. The economy, too, had gone south, with inflation making it difficult to keep ticket prices down.
 The Doors at Whisky a Go Go, 1967.
Another blow came from the presence of newer and hipper Hollywood clubs, like the Starwood and the Roxy. "We can't get big crowds regularly," owner Elmer Valentine told the Los Angeles Times. "We are competing with every little rock & roll club and every concert." In March, Valentine, a former Chicago cop who'd held an interest in the nightspot since 1964, conceded defeat. He announced that he'd decided to convert what was once the nation's premiere rock club into a disco, of all things. 
After a few lackluster months of business, Valentine dispensed with the trendy dance format and shuttered the club. He'd then begin leasing the Whisky to some enterprising gentlemen from back East who'd offer up cabaret entertainments like sex-themed shows and musical comedies, to little acclaim. On rare occasions, rock promoters put on one-off shows at the Whisky, such as in September 1975 when the pioneering female rock group the Runaways took the stage at the historic venue. But by late 1976, the once-proud Whisky had no relevance when it came to rock, and in fact, seemed destined to go to seed. 
The Runaways, from left, Lita Ford, Cherie Currie, Jackie Fox, Sandy West and Joan Jett in the Whisky s dressing room in 1977. (Los Angeles Times) 

Despite the Whisky's decline, Valentine never gave up hope that he might find a way to return it to its former glories. In the summer of 1976, Valentine rang up former Spirit manager Marshall Berle. "Around that time," the angular Berle recalls, "I got a call from Elmer asking if I would help him re-open the Whisky." Berle, who'd maintained personal and professional relationship with Valentine since 1964, was happy to assist.

In the weeks that followed, Berle and Valentine began hatching an audacious if not improbable plan to bring the Whisky back to life. Instead of booking well-established performers backed by major labels, they'd feature emerging local bands, most of whom lacked record deals, at the club. Unlike the commercially successful acts that had built the Whisky's reputation, these groups played abrasive music that was generally unsuited for mainstream radio. By the fall, Valentine was all in on this scheme: he'd revive the Whisky by turning the nightspot into the headquarters for Los Angeles's burgeoning punk and new wave scene. 
Soon after Berle heard from Valentine, he called Runaways manager and Los Angeles music entrepreneur Kim Fowley. "I got a hold of Kim," Berle recalls. "I said, 'Look, we're going to reopen the club later in the year. I'd like you to produce some shows.' Of course, he loved that idea." Berle knew that the intense, six-foot-five Fowley would immediately reach out to L.A. scenester and promoter Rodney Bingenheimer, a diminutive man with a distinctive pageboy haircut, and get him on board as well. This pair was sure to have their finger on the pulse of what was next in rock music and know which local street bands seemed poised for a breakout.

The duo didn't disappoint. By the early summer of 1976, punk and new wave had come to the fore in New York and London, and had begun creeping into Los Angeles. Bingenheimer and Fowley started spotting growing clutches of teenagers dressed in ragged denim and stained leather, hanging in the parking lot of the Sunset Strip's Rainbow Bar and Grill. They'd talk to these street kids about the bands they were forming and groups from back East and overseas, like the Ramones, Blondie, and the Sex Pistols, that they all dug. The pair, too, kept abreast of the inchoate scene's undercurrents through Runaways' guitarist and vocalist Joan Jett, who'd come to identify with it.  
Debbie Harry of Blondie at The Whiskey A Go Go, January 01, 1977. 
Then in August, the Pasadena-based KROQ hired Bingenheimer to spin records for four hours on Sunday nights across the AM and FM airwaves. "I went right into punk," he told Billboard. "The first thing I played was the Ramones. I could play anything I wanted." He'd be the first DJ in L.A. to play Blondie and the Sex Pistols too.

Soon after, unsigned L.A. bands began to pass demo tapes to him, which he'd play on the air. Some of these bands, like the Motels, the Dogs, and the Pop, had recently put on their own gig at a Hollywood hall, billing it as "Radio Free Hollywood," in protest against the lockdown that soft rock and disco had on the airwaves. 
As autumn arrived, this new movement continued to take shape. But Pleasant Gehman, then a teen who was fixture on the nebulous scene, emphasizes that punk in Los Angeles was a far cry from what it would become in the years that followed. "That time in Hollywood is really hard to explain to people who weren't there," she observes. "It was an amorphous, general rock & roll scene. It was informed by stuff like glitter rock and heavy metal like Blue Öyster Cult. [New York proto-punkers] the Dictators, if they'd been on the West Coast, would have been in that scene. Local bands like the Quick and the Dogs were more like punk precursors. Anything we liked was never played on the radio, so you had to see it live. So there were a lot of great local bands here. But they couldn't easily be classified."
L.A. punk fashion in 1976, too, bore little resemblance to the outrageous fashions that came to define the movement in the years that followed. Gehman says, "Almost no one we hung out with was old enough to have tattoos. Nobody had piercings yet. It was just jeans and leather, and maybe a little bit of some sparkly, glitter stuff. Sometimes girls would wear slips. But before the punk look started coming together with leather jackets and safety pins, the aesthetic was like 50s hoodlum with a little bit of 70s fashion thrown in."

As momentum built on the street, Valentine made his move. In mid-November, Valentine announced the club's reopening in the pages of Billboard, stating, "I feel that punk rock, which is so hot in New York now, may well be due to hit Los Angeles." 

On Thanksgiving weekend, that proposition began to be put to the test when the Whisky once again opened for business as a rock club. With Fowley serving as MC, the nightclub featured two local (and Fowley-backed) new wave bands: The Quick; and Venus and the Razorblades. With teenagers filling the room, the Whisky's resurrection had begun.

Just days later, the scene's eclectic nature was on display on the Whisky stage when Berle and Fowley paired Venus and the Razorblades with a decidedly un-punk rock band from Pasadena, Van Halen. Berle, who just weeks earlier had caught a sold-out Van Halen concert in Pasadena, had hired them to play the club.  
Van Halen Live at Whisky a Go Go, 1976.  
Van Halen's first appearance at the Whisky made for some awkward backstage scenes before the gig. Venus's guitarist, Roni Lee, remembers that Van Halen's heavy rock vibe initially turned off her whole band. She says, "So when Van Halen came in the Whisky, nobody knew who they were. These guys? Their pants are too tight. They weren't wearing black. They were showing their chests. They were still into the glam rock stuff, and they weren't in the Hollywood scene."

Gehman, however, says that in 1976, at least, she and her friends had a different take on this kind of pairing. "There was this whole gray area in L.A. before punk became quote-unquote 'official' in 1977. Now nine times out of ten, if it was Hollywood, Pasadena, or the Valley, it was Van Halen playing with someone who'd later be known as a new wave or punk band. So we just loved them. They were always fun. Back then, the classifications, which became so important a few years down the line, didn't matter, because it was amazing live music. We didn't think we were metalheads or punks. We just liked these bands because they were good bands."

By late December, Valentine and the others sensed that the punk and new wave movements seemed ready to break wide open in Los Angeles. Fowley, perhaps the most unsung scene maker in rock history, wasted no time in hyping the Hollywood music movement. As he informed readers of the Los Angeles Times, "We have 15 bands who are heavy metal or punk rock or street-rock. Everyone is capable of drawing at least 500 people on a word-of-mouth level… There is a definite Liverpool starting here in Los Angeles. These are the ones you will pay money to see two or three years from now at the Forum. Now is the golden time."

Critics too, like the influential Robert Hilburn of the Times, took note of the fact that the historic Whisky had come to serve as the highest-profile platform for this new wave of rock in Los Angeles. "For the first time in years," he wrote in January 1977, "there is the trace of a rock scene again in Los Angeles. It's only fitting that it be headquartered at the Whisky."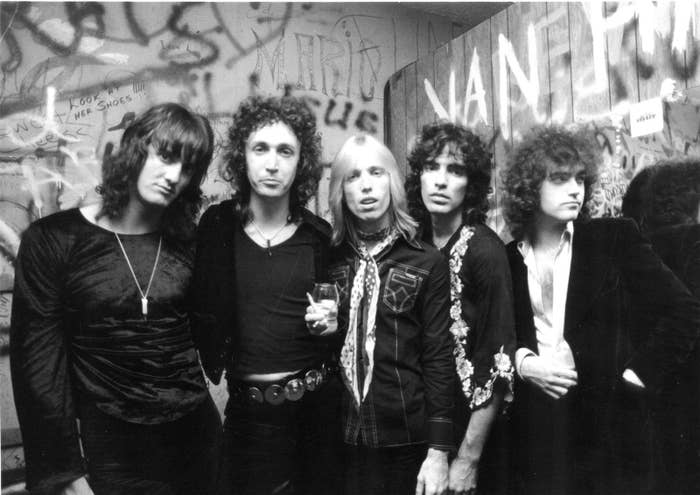 Tom Petty and the Heartbreakers wait backstage before performing at the Whisky a Go Go in 1977. 
Meanwhile, the club's brain trust made plans to capitalize on the venue's early success by booking bands from out of town. Berle recalls, "Elmer and I had lunch in Hollywood every day. We'd have a calendar and go over it, and we'd try to fill in all the open dates." Major labels like Sire and Chrysalis had begun contacting them, looking to use the newly hot Whisky to break their ascendant acts on the West Coast.

"We started to do these shows for record companies," Berle says. "If a record company wanted to showcase a band, for whatever reason, we'd book them. We came to cater to all the labels." Around this time, Valentine made another smart move by hiring the late Michelle Myers, a Fowley protégé with tremendous eye for talent, as another booking agent for Team Whisky.

By early February, the Whisky featured its highest profile act to date when rising new wave stars Blondie, with a young Tom Petty and the Heartbreakers in support, performed a multi-day stand at the club. Photographer Jenny Lens, whose work vividly documented the LA scene, wrote in Punk Pioneers, "Debbie [Harry] walked onto the stage wearing a Humphrey Bogart beige trenchcoat, black beret, and holding a New York paper announcing freezing weather." As the set continued, she unbuttoned the coat to reveal an outrageously tiny black dress and thigh-high black leather boots. 
 Deborah Harry at Whisky, 1977. 
 Out in the crowd, Dee Dee Ramone, whose band was scheduled to play the club the following week with Blondie, watched the show. "Blondie was really good that night," he recalled in his autobiography. "Deborah Harry was smashing… all the boys were crowding the front of the stage, trying to get a look up her skirt at her white bikini briefs."

After the set ended, Ramone headed toward the upstairs dressing rooms to congratulate Blondie on their fantastic L.A. debut. But as he reached the top of the stairs, Ramone had his first encounter with a man who would later produce the Ramones' 1980 effort, End of the Century. He wrote, "My way was blocked by a man holding the red velvet curtains at the top of the staircase together so as not to let me pass through. This man I can only describe as resembling Count Dracula himself. He was dressed in a batwing-type cloak. He had a black beard and a moustache which gave him a devilish appearance, and his dark aviator shades gave him an aura of menace and mystery. Later I discovered this man was the crown prince of darkness himself, Mr. Phil Spector." 
Phil Spector, as Ramone and every other pop music fan knew, was a legendary producer and songwriter who had racked up an unparalleled string of hits in the 60s. But on this night at the Whisky, he looked unhinged and acted like a maniac. After a tense conversation, the dressing room door cracked open, sending Ramone and Spector spilling into the room. Once inside, Ramone locked eyes with a radiant Deborah Harry, wearing nothing more than a bra and panties.

After Ramone departed, Spector worked to convince the members of Blondie to let him produce their next album. Gary Valentine, then Blondie's bassist, recalls, "He made everyone else leave the dressing room and launched into a long and meandering monologue, peppered with remarks like, 'Who the hell do you think you're talking to?' whenever one of us wanted to say something. He wouldn't let us leave and had his bodyguard stand in front of the door."

In the wee hours of the morning, Spector persuaded guitarist Chris Stein and Harry to accompany him from the Whisky to his Hollywood mansion. Harry recalled that the night was anything but unmemorable. "He trapped us in one room for a while," she wrote later. "We couldn't move around. If you stood up he wanted to know where you thought you were going." Harry took this all in stride, saying later, "I love nutty people and I am really attracted to them. I sang some songs [and] Chris played guitar" for the producer before he finally let them depart. 

To keep the club active during the summer months, Myers and Berle asked Fowley and Bingenheimer in June if they'd serve as ringmasters for a series of shows that would feature the latest crop of unsigned, local punk and new wave bands. The pair quickly agreed.

The following Sunday, Bingenheimer and Fowley went on the radio at KROQ, inviting bands to come audition at the club. Fowley screamed into the microphone, "Attention, unsigned new bands in garages! Guys and girls who are playing the weird underground music. Whoever shows up at the Whisky this coming Friday will automatically be guaranteed a spot. In other words, if you show up, you get onstage, even if you're horrible."

Once tryouts got underway that Friday, Berle observed the proceedings. "Oh my God. That's when I first saw Kim in his Full Metal Jacket drill sergeant mode. It was, 'What the hell are you doing? You can't do that! Oh, you suck! Stop! Stop!' Then it was, 'Okay! Who's next? Get up here!' He was just screaming at everyone, just insulting people. I said to myself, what the fuck have I gotten myself into? But that's how these 'Kim Fowley Presents New Wave Rock & Roll' nights got started." 

A few days later, Bingenheimer, accompanied by future Go-Go's vocalist (and former Germs' drummer) Belinda Carlisle, climbed onstage and introduced a newly formed Hollywood punk quartet, the Germs. The band, which featured future Foo Fighters guitarist Pat Smear and vocalist Bobby Pyn, had the dubious distinction of having only one member, Smear, who actually knew how to play his instrument. Regardless, the entrepreneurial Fowley had made arrangements to record the show for a future live album release.

Unbeknownst to the club's management, the Germs had encouraged their friends to come prepared for an unprecedented evening of crowd participation. Gehman remembers the results. "That whole night shows the difference between concert security then and now. People were smuggling in two-gallon Costco-sized jars of mayonnaise into the club, because they weren't searched. Now we'd always brought booze in there, but that was in small bottles. This stuff was just badly concealed under somebody's leather jacket." 
The Germs released their June 1977 performance at the Whisky on the album Germicide. 
Once the Germs started playing, food started flying. In between songs, Pyn baited the crowd by screaming, "Fuck you!" and saying, "We can't play unless you throw shit!" Carlisle stood at the side of stage, passing containers of salad dressing and whipped cream to the Germs so they could hurl it into the audience. Gehman continues, "There was enough food that night to supply a food bank. I'm not kidding. It was crazy. It was everything you can imagine. There were melting containers of ice cream. There were jars of pickles. People brought refried beans. It was psychotic."

By the time the set ended, the interior of the Whisky looked like the aftermath of a natural gas explosion in a grocery store. The club's manager, Jimmy LaPenna, scanned the room and saw red. LaPenna, who could have just as easily been a casino pit boss, went on a rampage. The way Gehman tells it, "LaPenna was screaming, 'You and you! Get up on the fucking stage right now! Clean up!' There were kids there that night dressed in black who looked really menacing and really crazy. But he was seriously grabbing them like a schoolteacher, by the ear or by the scruff of the neck, and handing mops, dustpans and trash bags to them, and making them all get up onstage to clean up. Not one person refused him because he was so scary." Unsurprisingly, the Germs were barred from playing the club for some months.

In the fall, Gehman and her friends were pleased to learn that the Jam, an English trio that took more cues from the early Who than from contemporary punk, were coming the Whisky. While the energetic band had already become stars in the U.K., this Whisky show would be their first American club gig.  
In another example of the wide-ranging billings that characterized the Whisky during those days, one Johnny Cougar, another newcomer on the scene, would warm up the crowd for the Jam on their first night at the club.

Once again, Gehman and her friends were there. "We loved the Jam, but were were all really excited to see him too. Before he turned into John Cougar Mellencamp, he was really rockabilly-ish. I seem to remember him wearing like a pink Elvis-like suit that night. Then he took off his shirt. It was all teen-idol, the Devil's music, rock & roll, thing. He had a big rockabilly pompadour." After Cougar departed, the Jam came onstage and proceeded to flatten the Whisky. 


Hilburn wrote in the Times that the trio "gave an exhilarating display of the youthful intensity that has long been at the heart of the purest rock 'n' roll." Playing song after song from their debut album, they barely paused to catch their breath during their concise forty-minute set. 

As the Jam played, the crowd pulsed with energy. Standing near the dance floor were two future members of the alternative rock band Dread Zeppelin, guitarist Carl Haasis and bassist Joe Ramsey. Haasis recalls that they soon set their eyes on one particular fan who'd seemed to have lost his mind as the Jam blasted through their set. "All these people were pogoing and jumping up and down, but there's this one fucking buff guy with his shirt off. He's got on camouflage pants, and his entire head was wrapped in duct tape. I think he had a mouth hole, but head looked like a golf ball of duct tape."

Once the show ended, Ramsey and Haasis walked over to the man as he pulled the tape off his head. "As unravels it," Haasis says, "we see that it's Bruce Moreland." Just a year earlier, Moreland and his brother Marc had been the masterminds behind a pioneering L.A. glitter-rock band called the Sky People. But like so many other kids, Bruce, who'd later go on to fame with Wall of Voodoo, had gone punk.

Indeed, by the end of 1977, the bulk of Hollywood's young rock fans had embraced the scene. The Los Angeles Free Press reported on the movement's outrageous fashions by writing, "Garb can include Nazi memorabilia, black leather, greasy chopped up hair, an occasional plastic garbage bag worn as a vest, torn clothes fastened together with safety pins, and the latest rage from England, safety pins in the earlobes." According to Fowley, these multiplying clutches of wildly dressed Hollywood street kids made for a human zoo. "The scene was like Kosovo meets Auschwitz. It was displaced persons, refugees from the suburbs… it was urine-stained, safety-pin-wearing, shit-ass motherfucker out-of-control fuckboys, fuckgirls… white dopes on punk."
Joan Jett and Rodney Bingenheimer backstage at Whisky a Go Go in 1977. 
This buzz kept business booming at the Whisky. Nearly one year to the day after he'd reopened the club, Valentine told Hilburn, "I kept reading about all of the new wave stuff in England. I saw that rock & roll was ready to come back. There were a lot of bands forming around town and [there was] all of the action in New York. It has been a real exciting year… probably the most exciting time for the Whisky since the 60s. There are some great new acts. And I don't think it has begun to peak… Kids are just discovering they can see the next Jaggers and Zeppelins." Hilburn, for his part, proclaimed in the Times, "the Whisky is the symbolic home of the new wave. As such, it offers the most consistently interesting rock fare."

To close out the year, the Whisky booked Van Halen, now signed to Warner Bros. Records, for December 30 and 31 performances. Berle, who'd gone on to manage the quartet, recalls, "Those were great shows. They were packed. It was ridiculous. Everybody had a good time, and I think Van Halen made more money at those shows than any others they'd done at the Whisky." These gigs would be Van Halen's (and Berle's) farewell to the Whisky, since they'd all leave town in March 1978 to go on the road in support of Van Halen's debut album.


As it had a decade prior, in the late 70s the Whisky once again served as a phenomenal launching pad for new rock talent. By 1980, Van Halen, Blondie, the Jam, and Tom Petty and the Heartbreakers had all become stars. John Cougar joined them in that status by 1982. In contrast, the Germs never broke out of Los Angeles, and the band disbanded for good in late 1980 when Pyn, now calling himself Darby Crash, committed suicide by injecting a massive dose of heroin.
For the Whisky, however, history came to repeat itself in a much more unwelcome way by 1982. Facing a poor economy, growing competition from a new crop of L.A. nightclubs, and a softening market for punk and new wave, Valentine shuttered the club in September. The nightspot would remain closed as a live music venue until the mid-80s, when it was revived by the armies of glam metal musicians who'd decamped to Hollywood in the hopes of following in the footsteps of former Whisky stalwarts like Mötley Crüe and Van Halen.

Today, the Whisky stands open for business on the Sunset Strip, and features a wide-range of local and national talent. Yet the days when Berle and Valentine could fill the gig calendar and then consistently pack the house are long gone. To help limit the club's exposure to financial risk, the Whisky requires local bands to purchase upfront, and then resell, blocks of tickets in order to gig there, a scheme that musicians decry as a "pay-to-play" policy.
Despite this state of affairs, ambitious musicians still leap at the chance to play at the storied Whisky. And why wouldn't they? When bands take the stage there, they are performing in the shadow of greatness, one that stretches back to 1964. Over and over again, as a look back at 1977 reveals, the club has served as the local mecca for musical trends that change rock history. When the next big thing in rock arrives, ground zero may very well again be at a little club on the Sunset Strip.  
ALTOSAXO is an online music merchandise store. We are your best source for hard to find music t-shirts on the web and we are continuously adding new artists and designs to our inventory. All of our shirts are made of 100% cotton with excellent quality prints. 
---