The History of the Gibson Flying V
Surely one of the most outrageous guitar body's in history, the Gibson Flying V is an instantly recognisable piece of rock n' roll. Countless famous players have made the Flying V synonymous with their sound, and indeed look, but where did it come from? 

We look at the inception of the Flying V and the most famous players to pick up their wings and soar. 
Inception 
When Leo Fender released the Stratocaster in 1954 it were hailed for its cutting edge, modern design. The sleek body and famous horns were an instant staple and became admired amongst players and fans alike. As a result Gibson's sales began to slump, and Gibson president Tod McCarty realised the need to combat what was soon to become the most famous guitar model of all time.

In typical McCarty fashion, he made a series of bold moves that resulted in the development of several of the most desirable and valuable electric guitar models in history, including the sunburst Les Paul Standard, ES-335, Explorer, and Flying V, all of which made their debut in 1958. While the ES-335 has become a jazz-blues favourite, and the sunburst Les Paul is arguably the second most iconic guitar model, it was the Flying V that proved the perfect blend of modernism and seductive sleekness.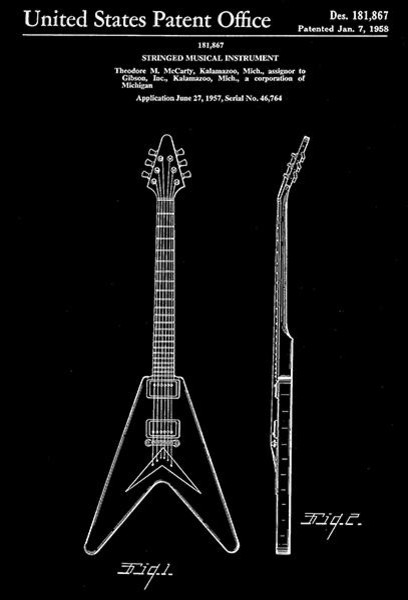 1958, Gibson Flying V Guitar, McCarty, Patent Art 
Design 
In 1956 Andy McCarty hired a group of artists to develop electric guitar models with 'futuristic' appeal.

"I told them what I wanted and asked them to make me some sketches," McCarty told Andre Duchossoir. "We chose the ones we liked, and then we called in [guitar foreman] Larry Allers and John Huis and asked if they could make them. You can design anything on paper, but building and producing it is a different matter."

Only several of the submitted designs made it to the prototype stage. Of the prototypes only three were patented and confirmed for application in January 1958. This was an unusual strategy, as previously Gibson had filed patents only for engineering inventions and not cosmetic designs. The three confirmed designs were the Moderne, Futura, and Flying V. Of these designs the Flying V was the only one that remained unaltered, while the Moderne never went into production. 
They were initially built for trade shows with mahogany bodies, although they were soon changed to the lighter African limba wood, also known as korina.

"No one else had a korina guitar," Gibson wood expert Wilbur Marker told Duchossoir. "That was the novelty of the thing. It was very pretty. In essence, that is the reason why we went with korina." 
While Gibson re-established their reputation for innovation with dealers, it didn't necessarily translate to sales. Most dealers thought the designs were a little too space-age and thus many only ordered one instrument to put up in the window display. Shipping records show that only 81 Flying V guitars shipped in 1958 and 17 shipped in 1959. In early 1959, the Flying V was phased out of production.

They sat dormant until the early sixties when another 20 models were made with new technological improvements. They were hardware plated with nickel rather than gold, metal cap knobs instead of bonnet knobs, humbuckers rather than PAFs, and a Tune-o-matic bridge with an early Sixties-style retaining wire. Thus the Gibson Flying V was truly born and players were quick to make it their signature guitar as the acid began to soak the tapestry of the '60s. 

There are so many iconic guitarists who have made their mark on music history using a Gibson Flying V. Here's a look at just a few of the guitarists who have shaped – or have been shaped by – this guitar's enduring appeal. 
Lonnie Mack 
The Flying V first appeared in the 1958 Gibson catalog, listing for $247.50 (same as a Les Paul Standard), and Blues-rock guitarist Lonnie Mack started using one immediately. Mack was hooked on the arrow-like design of the guitar, and his was the seventh guitar off the production line. He named the guitar "Seven" and had it specially fitted with a Bigsby vibrato tailpiece. Mack's use of the Bigsby on his album The Wham of That Memphis Man and the signature track "Wham" that gave the "whammy bar" its nickname.  
Albert King 
Blues master Albert King was quick to pick up the Flying V for its symmetrical versatility as a left handed player. The V's shape meant it was easy for King to flip it over and restring, essentially playing a right handed guitar upside down.

Each Flying V Albert owned was named Lucy, not be confused with Lucille, the name of the Gibson hollow body owned by blues king contemporary, B.B. King. 
Jimi Hendrix 
For a southpaw like Jimi Hendrix the symmetrical design of the V made it easy for him to flip to a left hand. While he is most famous for his iconic white Stratocaster he frequently switched over to Gibson's to keep things interesting and for more attack.

For a brief stint in 1967 it had become one of his go-to instruments. Hendrix has even been photographed using it throughout his European tour in 1968 and was recorded playing his psychedelic hand painted model during the French television program 'Dim Dam Dom' in October. 
Jimi Hendrix owned at least three Gibson Flying Vs. Two were right-handed – a 1969 tobacco sunburst and a 1967, originally black, that Jimi himself painted to become his so-called "Psychedelic V." The third was a left-hander, built for Jimi by Gibson in 1969 and first used live in 1970. The psychedelic paint job on the Psychedelic V was done by Hendrix, but was apparently stripped off the guitar by an Irish guitarist names Mick Cox of Eire Apparent after Hendrix had gifted him the guitar. A UK musician named Dave Brewis eventually came to own it, and in 1999 he restored the guitar to it psychedelic state. That, combined with photos of its time with Hendrix, was what Gibson's Custom Shop used for its limited-run reissue in 2006.   
Rock and Roll Hall of Fame and Museum curatorial director Howard Kramer tells the story behind two of the guitars featured in the Rock Hall's Jimi Hendrix exhibit. 
Tom Petty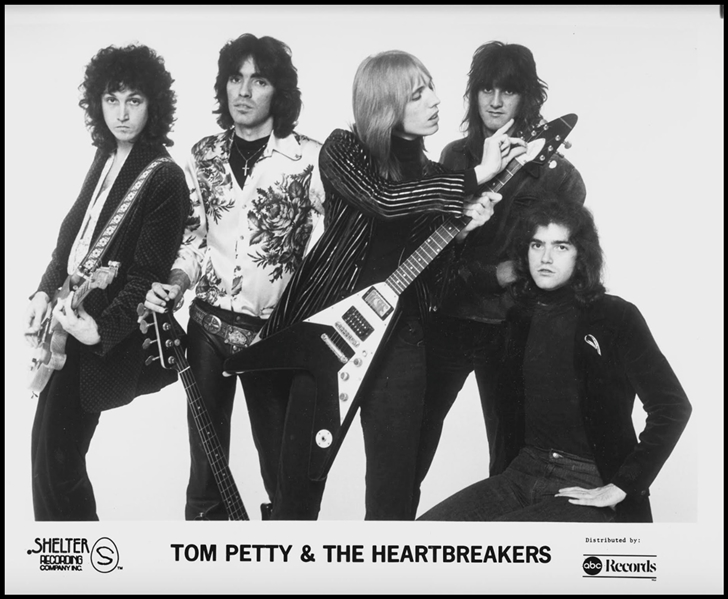 Tom Petty famously used a Gibson Flying V for much of his time with the Heartbreakers. He's even tuning it during a photoshoot which makes plenty of sense, I guess. Furthermore, the guitar even became a signature part of the Heartbreakers logo. 
Brian May – Queen 
It's hard to argue against the influence of Brian May. The iconic Queen guitarist had a wholly unique tone due to his use of an old British sixpence coin for a pick, coupled with his custom built Red Special.
However, for a brief period during the '80s he played a Gibson Flying V. While there is very limited footage of May with a Flying V there are some incredible recordings of his time in flight. 
James Hetfield – Metallica 
James Hetfield first bought a Flying V in 1980 at the age of 17. It was $200 and his second electric guitar. It appeared prominently on Metallica's first album Kill Them All. It was extensively played live until the neck snapped in 1984 in an on stage accident. His early set up included two Seymour Duncan Invader pick ups and a Tune-o-Matic Bridge. Some reports even state that it was an imitator body. 
Billy Gibbons – ZZ Top 
 In the early wave of ZZ Top, Mr. Billy Gibbons was rocking the Gibson Flying V.

As Gibbons himself said, "That V filled the bill in the search for a mid-'50s Gibson with humbucking pickups. The Gibson humbucking pickups, of course, were believed to be the driving force behind the fierce tones everyone seemed to be stretching for."  
Eddie Van Halen – Van Halen 
Eddie Van Halen acquired a mint condition 1958 Gibson Flying V from famed vintage guitar collector Dan Martin. Eddie went on to buy many guitars from Martin, who passed way in 2008. Dan Martin bougt the guitar in a dubious way from a unsuspecting guitarist who wasn't aware of its worth, and turned around and sold it to EVH. Eddie used the guitar on Van Halen's "Hot For Teacher," "Drop Dead Legs," "Girl Gone Bad," and "Top of the World."  
Paul Stanley – Kiss 
In the summer of 1975 KISS were still a struggling band. As a live act they were on the rise and although it seems as if neither the band nor their management had any real hopes of their recently completed live album proving a turning point it was nevertheless a reason to hit the road again. The Alive! Tour began on September 10 to coincide with the release of the album. For the tour Paul shows up with a new friend, a Gibson Flying V.
It should come as no surprise that Paul liked the Flying V. Part of the reason for this was probably the slight resurgance of the Flying V as a rock and blues guitar in the late 60's. Paul has mentioned Albert King's bound Flying V as the inspiration for his LoBue custom V. That Flying V, known as "Lucy" as inlayed on the headstock, was custom made for King by Dan Erlwine in the early 1970's. 
Rudolf Schenker – Scorpions  
Rudolf Schenker founded Scorpions in 1965, appearing on every album and at every tour. Schenker is known for playing Gibson Flying Vs – he owns over 60, including a few of his own '84 Rudolf Schenker Signatures, a custom double-neck V, and an acoustic Flying V made especially for him by custom-guitar maker Boris Dommenget. (Schenker now uses Dean V models). Schenker would have one more, were it not for his younger brother Michael who permanently "borrowed" one of his '71 Flying V Medallions. 
Pete Townshend – The Who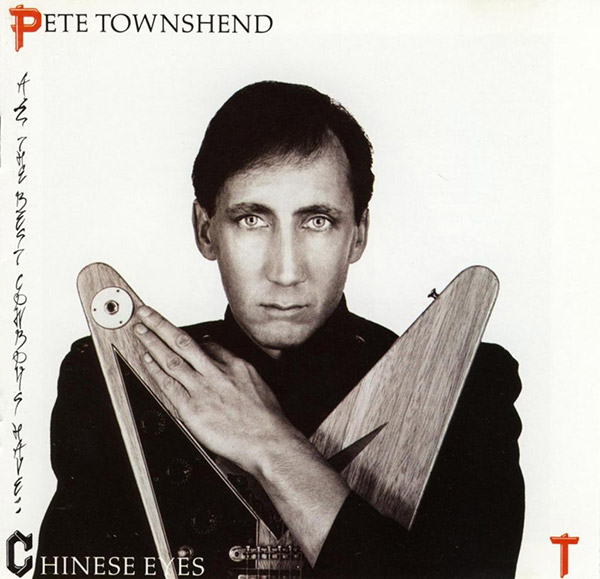 The Who's Pete Townshend was given a 1958 Gibson Flying V by The Eagles' Joe Walsh circa 1975. This guitar was used by Townshend on The Who by Numbers. Townshend also poses with his Flying V on the cover of solo album All The Best Cowboys Have Chinese Eyes. Townshend sold this guitar, likely in 1989 in order to buy a boat. Currently owned by a private collector. 
Dave Davies – The Kinks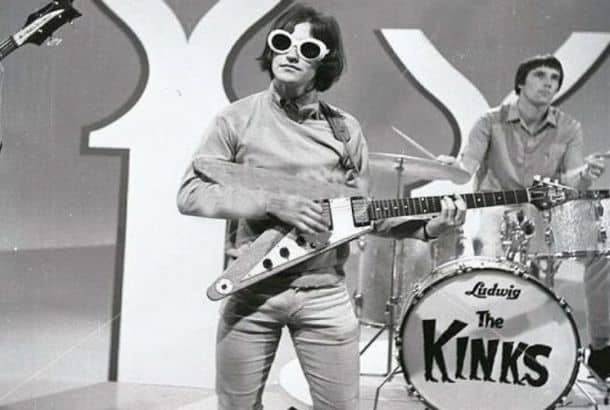 The Kinks' Dave Davies is a famous Flying V player from the 1960s. Flying Vs were relatively unpopular in the 1960s, he got his for just £60.
Dave Davies about his acquiring a Flying V in the mid-'60s. "I used to play a Guild custom built guitar and the airline lost it on our first American tour in '64 or '65. In those days, I used to only carry one guitar around and I had to get a replacement quick. I went into a store, and they didn't have anything I liked. I saw this dusty old guitar case and I said 'What have you got in there?' he said 'Oh, that's just some silly old guitar.' He got it out and I bought it for about £60."  
Other notables play Flying Vs including Grace Potter, Metallica's Kirk Hammett, Dave Mustaine (Megadeath, Dean), Karl Sanders (Nile, Dean), Wolf Hoffman (Accept, Jackson & Framus), Zakk Wylde, Lenny Kravitz, Joe Bonamassa, K. K. Downing and way too many others to note. 
ALTOSAXO is an online music merchandise store. We are your best source for hard to find music t-shirts on the web and we are continuously adding new artists and designs to our inventory. All of our shirts are made of 100% cotton with excellent quality prints. 
---