Grunge and the Riot Grrrl Movement of the 90's
During the early 1990's the music genre of Grunge (with its associated cultural trappings such as clothing and certain attitudinal/political elements) first came to prominence on a large scale when Nirvana's album Nevermind unexpectedly became a huge hit. Before this, the grunge scene had been centered on Seattle and the Sub Pop record label.

Often described as a cross between punk and heavy metal, musically grunge had a dark, guitarbased sound based around a traditional rock line up (guitar, bass, and drums). An unusual feature of the grunge scene was the relatively high proportion of female performers and bands, and this, combined with explicit antisexism stances taken by prominent male grunge musicians such as Kurt Cobain, and its close proximity to the feminist Riot Grrrl movement, served to position it as a more gender-neutral scene than many others in rock. However, over time grunge has been reclaimed as a masculine space along the lines of other rock movements.

Many researchers have noted the way women's contribution to popular music is mostly denigrated as "pop", as opposed to the "serious music" produced by male bands, which reproduces the general association of women with "low-brow" culture and men with the "high-brow". Even where women have "infiltrated" the rock scene, they are far more likely to be sexualized vocalists than to play instruments.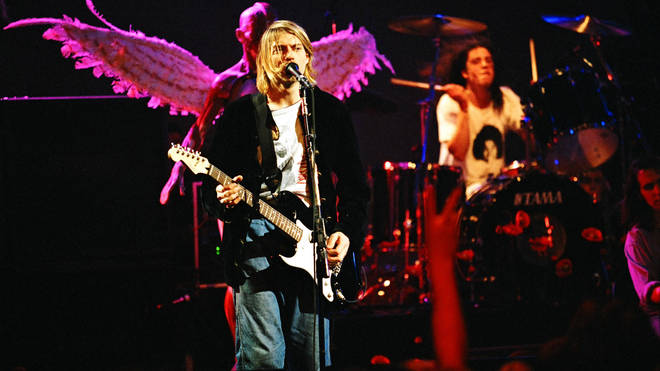 Nirvana live onstage during the In Utero tour. 

The prominent male figures of grunge, such as Kurt Cobain and Eddie Vedder, were vocal in their support of tolerance and equality, not just for women but also races and sexualities other than white heterosexuals. Kurt Cobain in particular enjoyed playing with gender roles. He allowed his own sexuality to be called into question by often wearing dresses and/or makeup on stage, in film clips, and on photo shoots, and wrote explicitly feminist songs, such as Sappy or Been a Son. Grunge bands in general avoided imagery that objectified or degraded women. No longer were women in film clips scantily dressed and dancing provocatively, but instead were more often portrayed as equally participating audience or band members. 
L7 is often associated with the grunge movement of the 80s & 90s; As an all-female band, at times, also been linked to Riot grrrl, although they preceded and are outliers of both the grunge and Riot grrrl movements.

A number of the female bands associated with grunge, particularly L7, Hole, and Babes in Toyland, became commercially successful during this period also. Thus, at the time of its greatest popularity, grunge offered a message of gender equality and presented a higher proportion of women participating as creative band members than had been apparent in recent rock history—particularly in comparison with "hair metal", the hard rock formation that was popular immediately preceding grunge and which was focused on the traditional rock pastimes of groupies and excessive partying. Part of this message of equality originated in and was reinforced by the associated Riot Grrrl movement. 
Babes in Toyland, Spanking Machine, 1990 
What is Riot Grrrl?

Riot Grrrl has been the subject of a greater amount of academic research and comment than grunge, probably due to the explicitly political feminist nature of the movement. 
Briefly, Riot Grrrl was a women's collective organized around the music scene, which produced fanzines and recordings, and organized and supported gigs of female musicians, while maintaining sharp social commentary on the position of females in society at large. The Riot Grrrls focused on the support females can receive from one another, and problematized the female body by talking about female desires, body parts and more taboo subjects such as incest and rape in an up-front and confrontational manner. They placed a strong emphasis on allowing younger females to express their experiences, as demonstrated through the fact that they were "'Grrrls" not women. Participants used their bodies as message boards by scrawling provocative words (such as "Slut" and "Whore") on their arms, legs and abdomens. 
A flyer by Kathleen Hanna of the band Bikini Kill sets out her manifesto for change; and the first issue of the zine Riot Grrrl, by Molly Neuman and Allison Wolfe, July 1991.  

While on the one hand encouraging female support of one another, Riot Grrrl also encouraged participants to express anger that they felt at the way they had been treated or victimized due to their gender, thus colonizing the "traditionally" male territory of anger. 
Since its inception in the early 1990s, Riot Grrrl has become normalized and commercialized in the same way that the wider grunge movement was. They note that the appropriation of parts of the message of Riot Grrrl by "mainstream" performers such as Alanis Morrisette has the potential to spread this message further, but on the other hand takes away the DIY message of the Riot Grrrls and turns the movement into another product to be sold. 
In the early 1990s the Riot Grrrls, tired of being misrepresented, declared a media black-out, and refused to speak to any mainstream journalists or allow documentation of their activities.

Despite the difficulty associated with applying genre labels authoritatively, there is strong evidence that grunge was closely associated with the Riot Grrrl movement. Both grew out of the same "art world" that was centered around Seattle in the late 1980s, and grunge had important cultural connections to what Bikini Kill has called 'REVOLUTION GIRL STYLE NOW'.
The Riot Grrrl label would be denied most (if not all) exclusively male bands, but the female bands involved could be—and have been—classified either as Riot Grrrl, grunge, or punk. There is demonstrably a significant overlap between these genres. For instance, as will be shown below, there is a shifting of labels of female bands between Grunge and Riot Grrrl. The two movements were geographically and temporally very close, and there was a constant sharing and exchange of personnel and ideas. One oft-repeated illustration of this interaction is in the story behind the name "Smells Like Teen Spirit", which was a phrase written on the wall of Kurt Cobain's house by Kathleen Hanna, singer of Bikini Kill and cofounder of the Riot Grrrl movement.
Bikini Kill 1994 
Riot Grrrl History

The word "Riot Grrrl," is synonymous with the word feminism. The underground hardcore punk movement started in the early 90's in Washington, D.C. From their start, Riot Grrrl bands dealt with a big number of women's issues they felt were not being talked about. Of course, the biggest theme of the Riot Grrrl movement was women's empowerment. The movement sought to empower women by encouraging them to take their place in the men-dominated punk music scene. Women were encouraged to come to the front of the stage during Riot Grrrl bands' shows; an uncharted territory for women at the time as they were often excluded.
Bratmobile 

Some of the Riot Grrrl bands that emerged were Bikini Kill, L7, Heavens to Betsy, Bratmobile, and Sleater-Kinney. These proactive women did not only create music, they also created zines, political action, and the notorious Riot Grrrl Manifesto. It is a common misconception that this whole era of music and activism is anti-men. Molly Neuman of Bratmobile summarized it best, "We're not anti-boy, we're pro-girl." In fact, despite initial aggression at the beginning shows, The Riot Grrrl Movement had its fair amount of men supporters such as, Kurt Cobain and Calvin Johnson. 
Sleater-Kinney originated as part of the Riot grrrl movement and has become a key part of the American indie rock scene. 
Although the scene faded out in the late 90's, their influenced is carried on by bands such as Gossip, Kitten Forever, and Skating Polly. Beth Ditto of Gossip stated that The Riot Grrrl Movement was, "Built on the floors of strangers' living rooms, tops of Xerox machines, snail mail, word of mouth and mixtapes, Riot Grrrl reinvented punk." 
RIOT GRRRL
ALTOSAXO is an online music merchandise store. We are your best source for hard to find music t-shirts on the web and we are continuously adding new artists and designs to our inventory. All of our shirts are made of 100% cotton with excellent quality prints.  
---