If Kurt Cobain had lived
When artists get famous quickly, what is the script for the second act? With Kurt Cobain, we'll never know. But he left behind a few clues. 

What's most inspiring about Cobain is how much he accomplished and how quickly he expanded his artistic horizons in such a short time. Would his creative restlessness have continued? If Cobain were alive today he would be 53 years old. Who would he be working with and how would he fit into the musical and cultural landscape? Cobain was well-armed to deal with whatever came his way, partly because of some particularly underappreciated traits – adaptability and humour.
Cultural historians and journalists tend to focus on Cobain as the distressed, depressed grunge-era slacker, the epitome of a generation that had lost its way. That does everyone a disservice, because it reduces Cobain to a caricature − or a statue. 
Cobain with his infant daughter, Frances Bean Cobain. 
One does wonder what Cobain would have thought of the concrete statue of himself unveiled in his hometown of Aberdeen, Washington. On the 20th anniversary of his death from a self-inflicted gunshot wound, it captures Cobain as a grunge cliche, with ripped jeans and a tear rolling from his right eye.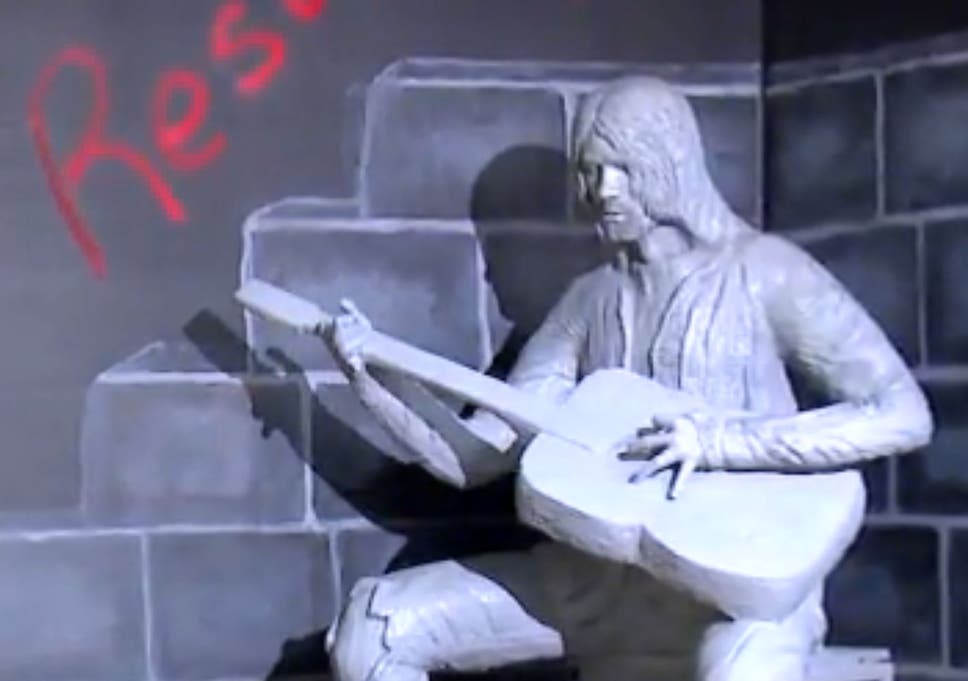 Statue of Kurt Cobain in Aberdeen, Washington 
Missing from a lot of the 'St Kurt' eulogising that has become a cottage industry over the last two decades is the notion that Cobain actually had a wicked, albeit dark wit. It's there in the songs, the cut-up lyrics and startling juxtapositions, showing that he not only appreciated the absurdity of his extraordinary fame and success, but that he was complicit in it. 

Teenage kicks 
In Nirvana's Serve the Servants, Cobain sang, "Teenage angst has paid off well/Now I'm bored and old." That could be read as cynical and despairing, but it also shows Cobain could laugh at himself. Almost nothing he did was particularly transparent. What made him interesting as an artist – the complexity, the contradictions, the onion-like layers of interpretation opened up by the way he strung words together– was also what distinguished him as a human being.
How much of it is calculated we'll never know. Cobain may have been the most complicated rock star since Bob Dylan, a mainstream artist who turned inscrutability into an art form. It suggests that he didn't want to be pinned down, and I doubt he intended to turn Nirvana into a lifetime, forever-touring money machine like The Rolling Stones. 

For all its flaws, the tear-stained Aberdeen statue does suggest what might have been, had Cobain lived. It depicts him sitting on a bar-stool with what appears to be a guitar shaped much like the acoustic/electric Martin model he used during Nirvana's classic 1993 MTV Unplugged performance. 
As late as November 1993, only a few months before his suicide, Cobain would talk excitedly about his next move. He wanted acoustic instruments and more textured arrangements for the next album, something that would plunge him deeper into the introspective shadows and subterranean beauty of a Nick Drake or a Skip Spence (co-founder of Moby Grape) rather than the scorched-earth fury of In Utero tracks like Milk It or Rape Me. The approach defined by MTV Unplugged in New York was one possible way forward. 

On that album, Cobain found new inspiration by digging into the music of his heroes and inspirations: Leadbelly, The Meat Puppets, David Bowie and The Vaselines. He reduced the songs to their barest essentials: voice, guitar, a bit of bass, brushed drums. On Penny Royal Tea, it was just him and his guitar. "Am I doing this or not?" Nirvana drummer Dave Grohl asked before the song began, but Cobain waved him off. He wasn't ready to limit himself to only one musical genre played with the same collaborators. 
Soul searching
Only months before, Cobain had sounded uncertain, interrogating himself on Nirvana's final studio album, In Utero:  "What else should I be?…What else could I say?…What else should I write?"  MTV Unplugged provided some answers, a way to stay a step ahead of boredom, and irrelevance. REM's Michael Stipe has said that he and Cobain were talking about collaborating in the weeks before the singer's death. 

And now, it's quite possible to imagine Cobain not (like some of his counterparts) as the proprietor of a heritage act – 'Nirvana, the 25th anniversary tour!' – but as a musical vagabond, jumping in and out of diverse projects in the way his old Seattle peer, Mark Lanegan (of Screaming Trees) has done. He'd no longer be at the centre of popular culture, but he wouldn't be a nostalgia act, either.
Cobain never felt completely comfortable as the centre of attention; he once said that he coveted John Lennon's fame, but he also wanted Ringo Starr's anonymity. So my guess is he would have kept moving, flitting from project to project much like a Dylan, Lanegan, Lou Reed or Neil Young, in search of new inspiration, rather than becoming a greatest-hits jukebox. He probably wouldn't be a Jay Z-style celebrity anymore because he never craved that constant level of media attention. But the work would keep him relevant because he would be restless and curious enough to keep exploring. "What else should I be?" would be a constant question with a new answer every year. 
Kurt Cobain performs in Frankfurt, Germany on November 12 1991.

Who might he be collaborating with today? Artists with a flair for musical risk-taking and cutting humour would have appealed to him: Queens of the Stone Age's Josh Homme, Kathleen Hanna, Jack White. He would've been a natural to produce the inevitable comeback album by Sleater-Kinney. And you just know that Kanye West would have booked some studio time with him in mind. Whether Cobain would've shown up is another matter. Instead, he might have run away on tour with his '80s heroes, punk-metal old-timers The Melvins, as their first millionaire roadie.   

ALTOSAXO is an online music merchandise store. We are your best source for hard to find music t-shirts on the web and we are continuously adding new artists and designs to our inventory. All of our shirts are made of 100% cotton with excellent quality prints. 
---